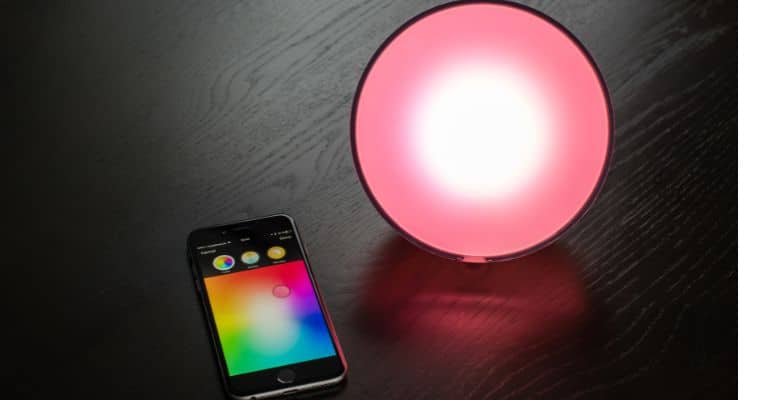 Back in October of 2012, Philips introduced the Hue smart bulbs that do much more than just light up a room. Some of them even change colors!
We decided to write a detailed guide on color-changing light bulbs with Hue lighting to better understand how they work and what you can do with them.
We dove into the technical details of the hue bulb, how to set up and use the app to control them, and which features are most important in making them part of your smart home.
What Exactly Is A Color Changing Light Bulb?
A color-changing light bulb is a bulb that can change the color of its light. These bulbs come in various shapes and sizes, but most fit into a socket similar to a traditional light bulb.
Many popular brands make color-changing light bulbs, including Philips, GE, Sylvania, and others.
The most notable brand of color is Phillips Hue Lighting, the first product to introduce a connected lighting system for the home. Their product line includes lights for just about every room in the house and outdoor lights.
Getting Started With Philips Hue Color Combinations
When setting up hue lighting in your home, you'll first want to choose a starter pack that includes some bulbs and a hub that connects them to your network.
Philips Hue Color Starter Kit
The Philips Hue Start Kit includes everything you need to get started in the world of color lighting. These kits include:
3 light bulbs – These smart light bulbs can change between millions of colors.
Philips Hue Hub or Bridge – This unit uses a Zigbee protocol to connect and control each light from your smartphone or tablet. It connects to the internet via your home network via an Ethernet cable or WiFi connection. It also connects to your smartphone or tablet via Bluetooth Low Energy, so you don't need an Ethernet cord running to your device to use it. Once you plug the hub in and connect it to your home network, you can download the app to your phone or tablet and begin using your new lights. The app is available for iOS and Android devices.
Light switch – This smart light switch can control the lights from your wall. The magnetic controller can also detach from the switch and be used as a remote control.
If you want to get started with this, I recommend starting with this starter kit, which you can expand on for your unique needs. It also gives you complete instructions on how to get started.
Philips Hue Color Chart
Here is a list of the color palette available with these bulbs. As you can tell, it hits pretty much the entire color spectrum:
https://www.enigmaticdevices.com/philips-hue-lights-popular-xy-color-values/
Now, there are actually millions of colors that you can get from these bulbs, but the chart above basically gives you the primary colors.
Philips Hue Color Lumens
Lumens are the measure of brightness that a bulb can emit. The higher the lumens rating, the brighter the light will be. Different colors will also emit different lumens depending on their intensity, but this is a pretty good approximation of what you might expect from each one:
Blue: ~450 lumens
Red: ~800 lumens
Green: ~500 lumens
Yellow: ~600 lumens
White: ~800-900 lumens
Pink: ~300-400 lumens
Purple: ~500-600 lumens
Orange: ~600-700 lumens
Philips Hue Color Temperatures
Color temperature refers to how warm or cool a light is. Most traditional incandescent bulbs give off a yellow glow which casts a warm tone over everything in the room. Fluorescent lights cast a blue tint over everything as well, while LED lights tend to give out more of a white glow that is closer to daylight.
Each has a distinct feel and color temperature and has its own uses in a home.
Philips Hue can change the color temperature range in the bulb so that you don't have to change it on the lamp itself.
Philips Hue Color vs. White Ambiance
These bulbs come in several varieties, including Color and White Ambiance.
The main difference is that white ambiance bulbs allow you to change between warm and cool light depending on the time of day. You can adjust the temperature from "daylight" to "warm" to "cool" in the mobile app using the "Ambience" feature.
The color ambiance only allows you to select specific colors and does not adjust its temperature throughout the day. However, you can still use this feature at night with the white ambiance light to create a relaxing environment.
Color bulbs give you complete control over the colors that it produces – 16 million colors!
Best Philips Hue Colors For Different Reasons
There are a lot of different uses for colored bulbs other than making some nice colorful effects in your room. Here are some of the best uses for these lights:
Create Mood Lighting – You can set the color on your lamps to create the mood you want in your room. Some good examples would be to set the red bulb on a dimmer to create a lovely romantic atmosphere or set the color to green to create a soothing environment to unwind after a hard day's work.
Set a Timer – If you have a lamp that you want to turn on/off at a particular time.
Wake up light or sunrise color – If you are like me, you don't always wake up at the same time every day. A wake-up light is a valuable tool to help wake you up in the morning at your desired time by gradually increasing the brightness of your lamp over a specified time. You can set these up in the mobile app or use the "wake up" function on the light switch. You can pick from a range of preset times or customize your schedule in the "wake up" section of the app and then set the light on a timer to turn on/off at the specified time.
Best color for sleep – If you have trouble falling asleep at night, you can set a color on your bedside lamp to help you relax before going to sleep. Many people like to set their lights on a dark red hue, but this can stimulate some people, so you may want to experiment with different colors to see what works best for you. You can also set your lights to turn off at a specific time each night to help you fall asleep faster.
Blacklight – while you cannot get a true black light, you can et the next best thing and mimic it.
The Philips Hue App
The app has everything you need to control your lighting, like a phone or tablet, from your smart device. You can easily control the brightness of each bulb and set timers for them to turn on and off as well.
If you want to change the color, simply tap on the bulb and select a new color from the palette that appears on the screen. Once you choose a new color, you can adjust the intensity level of it if you want it to light up more or less.
I recommend watching this walkthrough video that does an excellent job of showing all the ins and outs of this app and how to control your color-changing options.
How to Make Philips Hue Lights Change Colors
The easiest way to change colors is simply by opening the app and selecting the color on the palette. But did you know that you can do much more than just pick a color?
Let's look at some fantastic Philips Hue color options and ideas:
Cycle colors to change color automatically – if you have the Hue Bridge, you can cycle through your favorite colors automatically
Color loop – you can set up a formula to handle color looping through all your favorite colors.
Change colors with music – You can set it up to sync with your music and let it cycle through a bunch of different colors to the beat as you listen to your favorite tunes!
Remote control – control color changes using a remote control.
Fade between colors – instead of a hard shift from one color to another, you can set it up to fade between them.
Changing the default color – in the app settings under "power-on behavior."
Schedule color – based on a set schedule that you define.
Color Bulb Options From Philips Hue
Philips has several different colored bulb options that you can choose from. Each of these has a lot of other package options like single bulbs, 2 packs, 3 packs, and 4 packs.
White And Color Ambiance E26
GU10
G10r
White And Color A19 LED Smart Bulbs
BR30
E12
A21 1600 lumens
E14
E26
E27
Philips Hue Use Options That Have Color Choices
There are many different lighting fixtures that these bulbs are compatible with, and these bulbs also come in a lot of varying compatibility options. These are typically used with:
Floor lamps
Desk lamps
LED light strips (plus extension)
Downlights
Recessed lights
Edison bulbs
Candelabra
Ceiling lights
FAQ
Can Philips Hue White change color?
No, Hue White bulbs do not change color but have built-in lighting features. They also come in various brightness levels, from bright to dim.
How long do Philips Hue color bulbs last?
Philips Hue color bulbs are designed to last 25,000 hours, roughly equivalent to approximately 25 years of usage at three hours per day. However, this will vary based on how often you use them and the intensity level at which they are used.

You can read more about how long smart bulbs last here.
Which Philips Hue bulbs do not have color changing capability?
The White bulbs from Phillips cannot change color and do not come with built-in lighting features either. However, they have various brightness levels, including bright, medium, and dim.
Conclusion
If you are looking for a great way to add a splash of color and style to your home, I highly recommend checking out some of the latest products from Phillips and their color light bulbs. They allow you to easily create beautiful lighting scenes and effects using your phone's touchscreen. If you want to add colorful mood lighting to your home, these are the products for you.