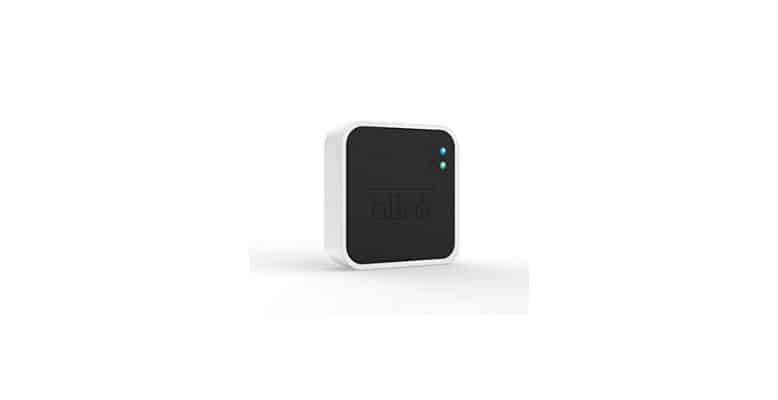 Are you looking for a way to aggregate multiple security cameras into a single interface? Are you concerned that your security system is only effective if each camera is operational? Do you have more than one security camera but wish you could view them all from one location?
If any of these questions apply to you, then the Blink Sync Module may be for you.
We put together this complete guide showing you how to set it up, troubleshoot issues, and more.
What Is A Blink Sync Module, And What Does It Do?
The Blink Sync Module is a small device that connects to your Blink cameras (indoor or outdoor), doorbell, home security system, etc.
The module is used to solve the issue of having many IP addresses for each camera on your network. Using this module, your cameras are all connected to this, and the module will handle the aggregation of all cameras in one IP address.
You can also connect a USB flash drive of up to 256 GB to the unit and have local storage of your video files. The storage capacity depends on the flash drive you are using.
The current version is called the Blink Sync Module 2, released on Jan 28, 2021.
Inside the box, you will find the Blink Sync 2 module, wall DC power supply, USB-A to Micro-USB cable, and instructions booklet.
For this to work, you also need a subscription to Blink's cloud storage plan, which is about $10 per month.
Accessing Blink's Cloud Storage
Accessing your cloud storage is done through the Blink app. Just tap the cloud icon on the home screen.
Blink Sync Module 1 Vs. 2
Last year, when version two was released, they were looking to upgrade the device to improve a couple things. Both modules will support up to 10 cameras, but there are a couple main differences. What is the difference between Blink Sync Module 1 and 2?
Module 2 is faster and more responsive.
Module 2 adds local storage to the flash drive USB port.
Do You Need A Sync Module For Blink?
No. It is not required. Technically, you do not need a sync module for your outdoor camera to work. However, it does provide a few benefits. First is simplicity: instead of having an IP address for every camera on your network and configuring each IP individually, you just have one address to deal with, and that's it.
The second benefit is that the sync module will provide faster data streaming from the cameras to your phone/tablet/computer than the stable wifi connection. This works for Blink security cameras, Blink mini, XT2 outdoor cameras, video doorbell cameras, etc.
Blink Sync Module 2 Setup

Setting up the module is a quick and easy process. However, there are a few things to keep in mind before you start:
Module placement – the best location for your Sync Module is as close to equal distances from each camera as possible. It doesn't have to be exact, but if you can find a viable place that is equally close to all cameras, you will get the best results.
Range – going along with the placement of the module, you should be aware of the range you can expect from it. The max range is around ~100 feet. If you place it close to your router, that should help increase the distance. So if you need to place your camera far away – on the other side of your house – this may not be the best option for you. This will be fine if you only need to place the unit close to the router or in a central spot in your home.
How to Add A Blink Camera to Sync Module
Setting up this configuration is very easy:
Time needed: 3 minutes.
Add a new device.

Tap the plus sign on the top right-hand side of the screen to add a new device.

Choose the device.

Choose the specific device that you want to install. This would include wireless cameras, mini cameras, video doorbells, and other accessories.


Authorize device.

You may be prompted for permission to access the camera to scan a QR code. Click OK to allow this.

Scan QR code.

Scan the QR code on the device that you are installing. You can usually find the QR code on the back of the device.

Name Device.

Give it a unique name.

Power up Sync Module.

Plug in your Sync Module and wait for the lights to display on the unit. You are looking for a blinking blue and solid green light.

Device discovery.

When the lights appear, tap "Discover Device."


Connect to Wifi.

You will be prompted to join your wifi network.

Finished.

Once you are connected to wifi, tap Done.
How Do I Add a Second Blink Sync Module – Using Blink Multiple Sync Modules
If you have gotten to a point where you have exceeded 10 cameras for your Sync Module, it is time to add a second one to your setup. The steps are exactly the same as the ten steps above. Simply add it as another device, scan the QR code and give it a name.
Delete Blink Sync Module
If you want to reduce the number of cameras you are using and no longer need a specific module, you can quickly delete it from your system.
Open your Blink app.
Tap on settings.
Scroll down to System Settings and select the system that has the specific module you want to delete.
Tap on the Sync Module.
Tap Delete Sync Module.
Best Location For The Blink Sync Module
The best place to keep your Blink Sync Module is in a central location. Pick a place that has a good wifi signal. I prefer to keep mine right beside my internet router.
How To Reset Blink Sync Module
At some point, you may want to reset your sync modules due to them not working correctly or not showing up in the app. You can reset this by simply unplugging it from the power and then plugging it back in again. That should reset it.
If this does not resolve any issues, you can try using the reset button. The hard factory reset button can be found next to the flash drive's USB port. You will need a paper clip to press the button. Hold it down for 5 seconds, and you should see a red flashing light, then blue flashing lights, and then a solid green light.
Blink Sync Module Lights Meanings
Blinking green – your camera is not connected correctly to the internet.
Solid red – No internet connection. Check your router to make sure it is connected to the internet.
Blinking blue light – the camera is connected, but the connection is poor. This may be because the camera is too far away from the module.
Solid blue light only – your device has been reset and ready to connect to your network.
No lights – no power. Plug it in! 
Best USB Flash Drive for Blink Sync Module
SanDisk 256GB Ultra Flair USB 3.0 Flash Drive
This is the latest technology in storage, transfer speeds of up to 150MB/s means you'll never have to wait around for files to transfer again. The metal casing and durable design mean it can withstand knocks and bumps. Supplied with password protection so only you can access your files. This USB 3. 0 connector is ideal for quick and reliable data transfers.
Troubleshooting
Here is a list of some of the most common issues and how to resolve them if they happen to you:
Blink Camera Won't Connect to Sync Module
If your camera or other devices will not connect, the first thing that I would recommend trying is resetting both devices. Simply unplug them from the power and plug them back in again. This should fix most connectivity issues between the two devices.
If this does not fix the issue, try moving your modules closer to each other and see if that helps the problem.
You can also try using a different wifi network to see if that helps resolve the issue. If none of these options work, you may want to consider calling support.
Keeps Going Offline 
If the module drops off the internet periodically, I would first make sure that you are close enough to the router.
If this does work, the next step is to ensure that the wifi connection is actually dropping and not something else causing the disconnect issue. To do this, I recommend that you first disconnect from wifi on the module itself and reconnect to it.
To read more about solving this issue, take a look at our Blink Sync Module offline article.
Already Registered to a Different Account 
If your Sync Module is already registered to a different account, you will need to contact support to help resolve this issue. To get them, open the app and go to settings > help > contact us > submit a ticket. They will send you a confirmation email so that you can verify your account before helping you out further.
If you know what account it is assigned to and know someone that has access to it, you may be able to resolve the issue yourself by asking them to remove it from their account.
We have a more detailed instruction article on Sync Modules that are already registered to a different account here.
Won't Reset with the Reset Button
If the reset button is not working, the only other option is to unplug it and then plug it back in.
Blink Camera to Sync Module Signal Is Weak
If your signal is weak between the two devices, the reason is probably because of the distance of the devices from each other. If you are far from the router, consider moving the module closer to the camera and see if that fixes the issue.
If not, you may have to consider using a different wifi connection to see if that works better for you.
Blink Sync Module Data Is Bad
If your data or video appears to be corrupted, there is a good chance that your sync module will lose connection with the camera or the internet. The first thing to do is make sure you have a solid connection to the internet.
You can do this by checking your router settings and seeing if you can see a more robust signal than where you are currently located. If you are too far from the router, consider moving closer to the router and see if that fixes the issue. If it does not, you may need to consider a different internet connection.
If you are using a flash drive, you may also want to try a different one.
FAQ
Why Do I Need a Blink Sync Module?
The main reason to get a Blink Sync Module is to centralize all of your security cameras into one easy-to-use application on your mobile device or computer.

It makes it easy to view your cameras at once and see what is happening around your home.
You can also use this to store all your security camera recordings for later viewing as well.
Does Blink Camera Connect to Wifi or Sync Module?
It kind of connects to both. The Sync Module connects to wifi, and then the camera connects to the Sync Module.
How Many Blink Cameras per Sync Module?
You can connect up to 10 cameras per module.
Can I Use Blink Camera Without Sync Module?
Yes, you can use the Blink camera without a Sync Module. So no, you do not need one. However, you will be limited to how many security cameras you can connect with it at one time, as well as not being able to view all of them at once in the mobile app.

You will also have to manually back up your recordings to a USB drive or other local storage location instead of being able to automatically upload them to cloud storage like you can with a synced system.
Can You Use 2 Blink Sync Modules?
Yes, you can add a second Sync Module if you get to a point where your home has more than 10 cameras.
How Far Can Blink Camera Be Away From Sync Module?
The Blink Sync Module range is 100 feet. If you need more range, you can use a wifi extender, but I have never had the need to use one because 100 feet is plenty for me.
Does the Blink Sync Module Need to Stay Plugged In?
There are a couple different ways that you can power the module. First, you can use the power supply that was included with the unit and plug it into the wall. In this case, yes, you will need to keep it plugged in.

However, if it is close to a router, you can also plug it into the router with the USB cable, and it will be powered that way instead.
Can I Move Blink Camera to a Different Sync Module?
Yes, you can move the cameras to different modules if you change your mind about where to place them or if you have more than one home and want to place different ones in each location.

Simply delete it from the module and add it to the new one.
Can I Unplug My Blink Sync Module To Move It?
Yes, you can unplug the module at any time if you want to move the cameras to a different location or if you just need to charge the battery back up again. But it is not going to work without power.
Does the Sync Module Come With the Blink Camera
No, the Sync Module does not come with the camera.
Can You Use It Without A Blink Cloud Subscription?
Yes, you can use the Sync Module without a subscription. However, the footage gets transferred to the cloud with a subscription. It will be stored locally on the flash drive without a subscription.
Conclusion
Is this the right security system for you? If you are serious about protecting your home and family and want a reliable and affordable security camera system, I would highly recommend that you take a look at the Blink Sync Module 2 and its wireless camera options.