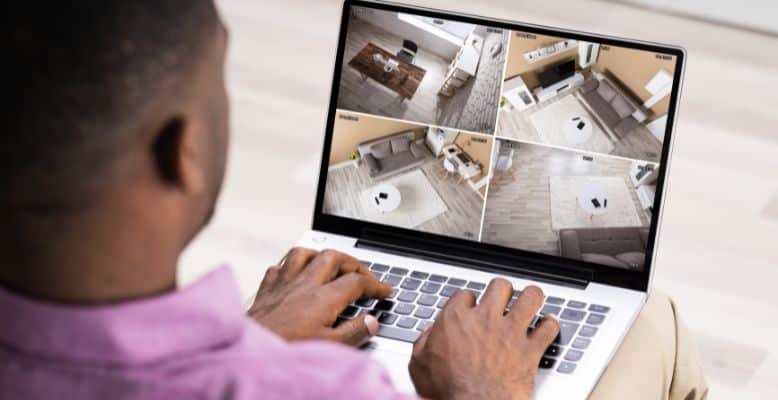 If you have a Merkury Innovations Geeni camera installed, there may be times when you want to view the footage that has been captured.
The Geeni app allows you to view a live stream from a Geeni camera directly from your phone and has various viewing modes, but a PC or Mac computer would give you a bigger screen to watch things on.
Can I View My Geeni Camera Online?
Yes, you can watch video footage from your Geeni camera on your PC or Mac. However, there are some specific things to set up since the Geeni app does not natively run on a computer. You need to install a smartphone emulator and run the app from that.
How To View Geeni Camera On a PC Or Laptop
Here's how you can set everything up to allow yourself to watch your footage from a computer:
Install a smartphone emulator.

I recommend Nox at bignox.com. Just go there, download, and install it by following the instructions.

Open the Nox app on your computer.

You will see a window that looks like an Android phone.

Click on the App Center icon and search for Geeni in the App Center's search bar.
Download the free Geeni app.

This is basically done precisely the same way that you would do so on a smartphone.

Open the Geeni app.
Log into your Geeni account.
Use the app just like you would on your phone and watch video footage on your computer.
How To Watch Geeni Camera On TV
If you have a smart TV that runs on the Android operating system, it is simple to set up without needing anything else. You download the Geeni app, install it and then watch the footage just like you would on your phone.
Alternatively, you can buy a Roku or Apple TV and download the app. From there, you can stream the video directly to your television.
How To Connect Geeni Camera To TV
You actually don't need to "connect" anything physically. As mentioned above, download the Geeni app to your Apple TV or Roku and stream the footage to your television.
How To View Multiple Geeni Cameras On One Screen
Watching multiple Geeni cameras feeds on one screen is done through the Geeni app on the smartphone emulator or smart TV app. You open the app, and it will automatically start syncing all the cameras.
Currently, you can watch up to four cameras at the same time.
Troubleshooting
Geeni Camera Playback Not Working
If your video playback is not working correctly, follow some troubleshooting steps.
Ensure that your camera and device running the app is connected to the wifi internet connection. For video streaming to work, you need an internet connection to stream the video from the cameras to the app and back. The connection is fine if it is streaming but playback isn't.
If your phone or computer is connected to your home wifi network, try moving your phone or tablet to another location to verify whether the problem is limited to the device you are using or whether you are losing signal from the camera.
Conclusion
Running the Geeni app on a computer or smart TV will give you a bigger screen and the ability to watch the footage from Geeni security cameras that are connected directly to your phone but, like with any technology, there are specific things to set up. Just configure the settings in Nox and install the app on your computer or TV. Then you will be able to watch footage from your Geeni camera.