Are you planning on setting up a security camera in a place where there is little light, or it gets dark at night?
If so, you should invest in a Blink camera with built-in infrared sensor or night vision capabilities.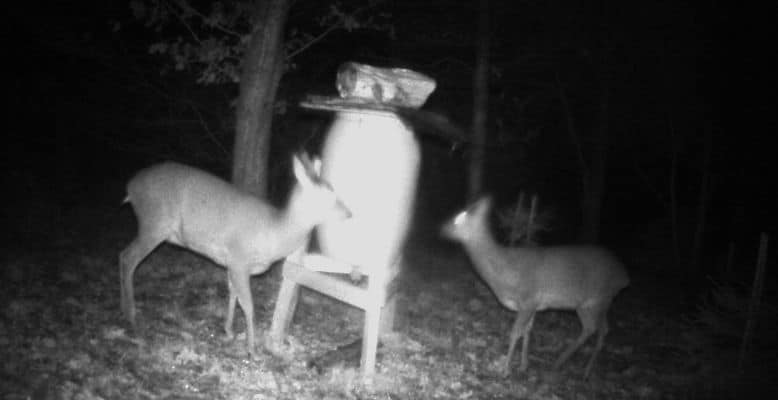 But how does it work, and how do you set it up?
Do Blink Cameras Work In The Dark At Night?
Yes, Blink cameras work at night because the camera is equipped with an 850nm infrared LED light. This allows the camera to see in the dark and you to see clear video after it gets dark at night. These night vision settings are easily controlled with the Blink app.
Are Blink Cameras Good At Night?
Yes, Blink cameras work very well at night. In fact they are one of the best security cameras for night time surveillance. All blink cameras are equipped with a infrared LED array and a built in passive infrared sensor which allow it to record footage in the dark with very minimal to zero light interference.
The infrared lights allow the camera to capture video even in total darkness and with the built-in PIR motion sensor it can automatically start recording as soon as it detects motion, so it can detect any intruders or unwanted activity even when it is dark outside.
What Is IR Intensity On A Blink Camera?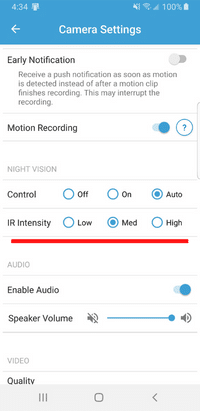 On a Blink camera, the IR Intensity is a setting inside the camera settings on the app. There are three IR intensity settings available:
Blink cameras currently have an 850nm infrared LED light to show you the clear video when the environment is dark.
You can turn the infrared light on or off from the app anytime. The intensity of the light is also adjustable from the app, allowing you to customize the brightness according to the amount of ambient light in the area.
Do Blink Cameras Have Night Vision (Mini, Doorbell, Indoor Or Outdoor)?
Yes, Blink cameras have night vision and can easily enable it through the app. This allows your camera to light up in the dark to see what is happening around your home, even at night.
Here is a great example video that I found:
Blink Security Camera Infrared Illuminator 
Blink security cameras use an infrared illuminator to light up areas with no light when the camera is in night vision mode.
What Is IR Sensitivity?
IR Sensitivity is how much light is detected by the camera and affects the brightness of your feed. The higher the sensitivity, the more light is seen, and the brighter your feed will be.
Blink Night Vision Settings For Dark Mode
How To Improve Blink Night Vision
Configuring a Blink camera for low light conditions is easy and takes only a few minutes to complete. Here's how it's done:
Tap the Settings icon.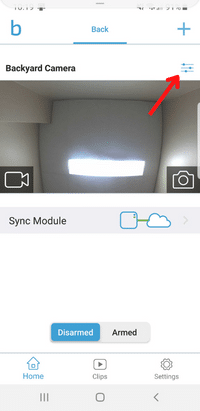 Scroll down until you see "Night Vision."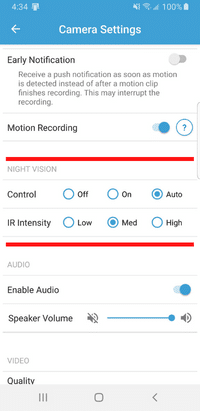 Turn the Control setting to Off, On, or Auto. I recommend Auto because it automatically switches to activate infrared when it gets dark.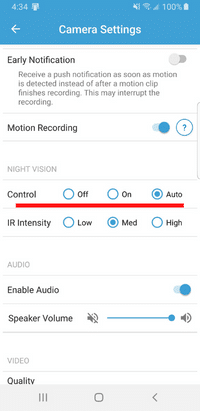 Is Motion Detection Affected With IR Turned On?
Motion detection should work the same with night vision as without it. If motion detection is enabled and armed, you will still receive push notifications for motion detected even in low-light conditions.
Do Blink Cameras Or Blink Doorbells Light Up At Night?
Blink camera have a small blue status LED light, but this can be turned off in the app to make it more stealthy.
Troubleshooting
Blink Camera Night Vision Not Working
If your Blink camera night vision is not working, the first option is to open the app and check to ensure that the option is enabled. This is the most common fix for this issue; however, if this does not resolve the problem, try the following:
Check the camera to make sure that nothing is obstructing the camera.
Check the camera batteries.
Reset the camera.
Conclusion
Blink cameras have excellent low-light settings. If you set your camera's infrared light to high, it will produce a brighter image in low-light environments. However, if you put it on low, the image will dimmer, but you'll get more clarity from the video feed. I recommend experimenting with your setup at home to see what works best for you and your situation.