$79.99
$89.99
as of September 22, 2023 4:50 am
$89.98
$114.98
out of stock
So, let me tell you about the Govee Dreamview TV Backlight. You can stick an LED light strip behind your TV to level up your binge-watching sessions. You can control it all with a simple mobile app and pick from various colors and lighting modes.
Now, I know you're wondering, "What's the deal with this thing?" Well, don't worry. I got you covered. I'm going to break it down for you – from the installation and setup to the performance, I'll let you know everything you need about the Govee Dreamview. And the best part? I'll even give you the lowdown on how it stacks up against other similar products on the market, so you can decide whether it's the right choice for you.
So buckle up, grab some popcorn, and let's dive in!
Govee Immersion Vs. Dreamview Vs. Envisual
Before I bought these, I did my research, and these either had multiple model names or were upgraded to new model names over time. Still trying to figure it out.
From what I can tell, though, Immersion RGBIC, Dreamview, and Envisual are all different models of similar products from Govee, which are LED strip lights for TV backlighting. But, some models may be upgrades of previous models. It needs to be clarified.
Click Here To See All The Different Options
What's In The Box?
When you purchase the Govee Dreamview RGBIC TV Backlight, you can expect to find the following items in the box:
The LED strip lights are designed to be installed behind the television.
A power adapter for plugging in the lights.
A control box that connects the lights to the camera and power adapter.
A camera that monitors the tv screen to help it calculate the right colors to display.
A user manual with detailed instructions for setting up and installing the lights.
Adhesive tape or clips to help secure the lights behind the television.
Orange foam blocks for the calibration process.
Alcohol pads for cleaning the surface of the back of the TV before installing the LED light strips.
It's important to carefully check the box's contents upon receiving it to ensure that all necessary components are included and in good working condition. If anything is missing or damaged, contact the manufacturer as soon as possible to request a replacement.
How It Works
So you just got yourself a fancy new lighting setup, huh? Congrats! You're in for a real treat with this one. Not only does it enhance your viewing experience, but it'll make you feel like you're in a movie theater or concert hall right in your own living room.
With the ability to sync up with your TV, the lights will change color and brightness to match the on-screen action, giving you a fully immersive experience. Plus, it can help reduce eye strain and create a cozy ambiance in the room.
But wait, there's more! You can even get your groove on with the music mode, where the lights will dance to the beat. And don't worry about staying up late binging your favorite show. It's got a timer function so you can kick back and relax.
And the best part? You can control everything from your phone! Just download the app, and you can program the settings, schedule when you want the lights to turn on and off, and even set them to automatically turn on and off based on your location or the time of day.
Features and Specifications
The Govee Dreamview TV Backlight comes with a variety of features and specifications that are worth considering.
Want to add some extra pop to your TV-watching game? Our LED strip lights are here to save the day! Don't worry about the size of your TV. These bad boys are flexible and thin enough to fit behind most flat screens – from LED to OLED to LCD. And don't worry about the weight. It's light enough for even the clumsiest of us to install easily.
But the exact measurements and weight may vary based on your TV's size and model. Still, we've covered you with all the necessary accessories for a secure and stable installation.
And get this, these lights offer many color options with millions of color combinations to choose from. You can even adjust the brightness to your liking. Plus, with the smart function, you can control it all with a simple mobile app or by using voice commands with Amazon Alexa, Google Assistant, or IFTTT – goodbye remote control! So, what are you waiting for? Let's give your TV-watching experience a significant upgrade!
TV Sizes It Works With
This works with many different sizes of televisions. Just make sure that you check the specs before you buy to make sure that you purchase the model that matches your TV size.
75 inch.
43 inch.
50 inch.
55 inch.
85 inch.
65 inch (that's what I have!).
Curved TV's might have issues with working properly. However, I do not have experience with that.
How Easy Was It To Install And Set Up?
Super easy! Only took me about 15 minutes from start to finish!
The installation process typically involves attaching the LED strip lights to the back of the television using the included adhesive tape or clips. The control box is plugged into a power source, and the lights are connected to the control box using the included connectors or extension cables. After that, the lights can be controlled via a mobile app.
Setting up the app is straightforward; it only takes a few minutes to connect the lights using wifi to your device. Download it and then follow the on-screen instructions.
Once the app is set up and your led light bars are connected, you are taken through the quick calibration process.
Performance
Have you ever watched a movie or video with those fancy-schmancy light-up strips that change with the colors on the screen? It's like, man, it takes your movie night to the next level! Sometimes, the lights can be a bit slow to catch up with the fast-paced action, but it's no biggie. It just adds to the fun. And the best part? This bad boy is super easy to install and use, with many customization options to make it your own. Trust me, once you try it, you'll never go back to boring old TV watching again!
Pros
The Govee Dreamview TV Backlight has several pros that make it an attractive option for anyone looking to enhance their viewing experience. Some of the key pros include:
Wide range of colors and lighting modes: The product offers millions of colors and various lighting modes, such as standard color mode, music mode, and built-in timer function. This makes it easy to customize the lights to match your preferences or the content on the screen.
Easy to install and set up: The product has detailed instructions and various accessories that make installation straightforward. The mobile app is easy to set up and provides an additional layer of convenience and control.
Smart function: The product can be controlled by a mobile app or voice commands via Amazon Alexa, Google Assistant, and IFTTT, which means you can control the lights without using the app.
Compatibility: It is compatible with a wide range of different TV sizes and brands, making it easy to install behind most flat-screen televisions, including LCD, LED, and OLED models.
Syncing with content on the screen: The product can sync with the content, creating an immersive and dynamic viewing experience.
Enhancing the viewing experience: The lights can create ambient lighting in the room, which can help reduce eye strain and improve the overall viewing experience.
Cons
While the Govee Dreamview TV Backlight has many pros, some cons are worth considering. Some of the critical cons include:
Limited synchronization with TV: The product can sync with the content on the screen, but it's not as advanced as other products on the market.
No automatic turn-off when the TV is turned off: I wish the lights would turn off automatically when turned off, which can be an inconvenience if you forget to turn off the lights manually.
Conclusion
Are you looking to level up your binge-watching game and create a cinema-like experience in your TV room? Then, you'll love the Govee Dreamview TV Backlight! This bad boy is perfect for anyone who wants to add some pizzazz to their movie nights, get a grip on their TV room lighting, and take it to the next level with some smart functionality.
It has many features and settings to make your viewing experience personalized and immersive. Trust me, it's a breeze to install and use. But don't just take my word for it. I'd give it a solid 4.5 out of 5 rating. Remember to weigh the pros and cons before purchasing because no product is perfect.
$79.99
$89.99
as of September 22, 2023 4:50 am
$89.98
$114.98
out of stock
Govee Dreamview TV Backlight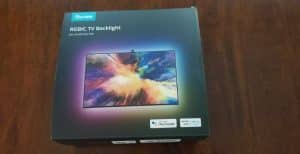 So, let me tell you about the Govee Dreamview TV Backlight. You can stick an LED light strip behind your TV to level up your binge-watching sessions. You can control it all with a simple mobile app and pick from various colors and lighting modes.
Product Brand: Govee
Pros
Wide range of colors and lighting modes
Easy to install and set up
Smart function
Compatibility
Syncing with content on the screen
Enhancing the viewing experience
Cons
Limited synchronization with TV
No automatic turn-off when the TV is turned off