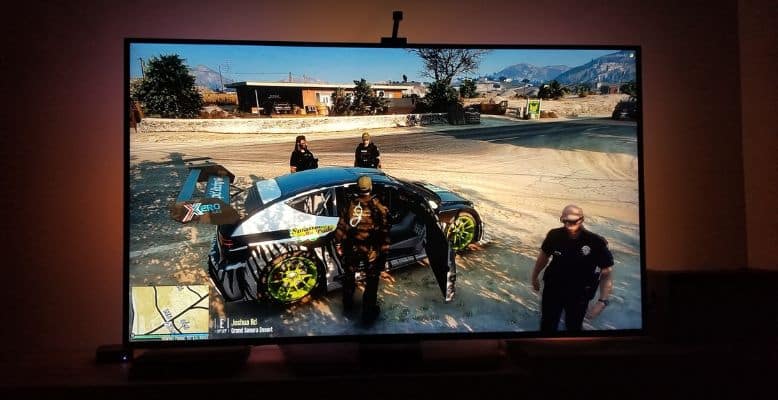 The Govee Dreamview is a smart LED light strip that can enhance your TV viewing experience. With its ability to change colors, brightness, and even set schedules, the Govee Dreamview can be tailored to your specific needs and preferences. However, before you can start enjoying the benefits of this device, you will need to set it up.
We will provide an overview of the different settings and options available in the Govee app so that you can fully customize your experience. By the end of this article, you will have all the information you need to get your Govee Dreamview up and running and enjoy all it has to offer.
Start With The Installation
Before we dive into setting up that bad boy Govee Dreamview, let's ensure it's installed proper-like. Trust me, getting it set up right from the get-go will ensure that everything runs smoothly and you can enjoy all the sweet features Dreamview offers.
You can check our article on installation for more information on this.
How To Set Up Govee Dreamview
Now that your Govee Dreamview is appropriately installed, it's time to set it up so that you can start controlling it via your smartphone. The setup process is straightforward and can be completed in a few easy steps:
If you haven't already, download the Govee app on your smartphone.
The app is available for iOS and Android devices and can be found in the App Store or Google Play Store.
Open the Govee app and create an account.
This will allow you to save your settings and preferences.
Connect your smartphone to your home wifi network.
The Govee Dreamview requires an internet connection to function correctly.
In the Govee app, select the "+" in the top right-hand corner and then search for your specific Govee model (if you look in the operation manual that you got in the box, it will tell you what to search for).
Follow the on-screen instructions to connect the Govee Dreamview to your smartphone. 
Once the device is connected and calibrated, you can control the Govee Dreamview via the app. You can adjust the color and brightness and even set schedules.
Are you setting up your Govee Dreamview and running into some roadblocks? No worries, the Govee app has got your back with some super helpful troubleshooting tips. And if you still need help figuring it out, the Govee customer support squad is always ready to lend a hand. Just remember, to get the whole experience with your Dreamview, make sure your phone and the device are chillin' on the same wifi network, and you're good to go with an internet connection. That way, you'll be all set to bask in the glow of your custom, energy-efficient lighting in no time!
Best Settings For Govee Dreamview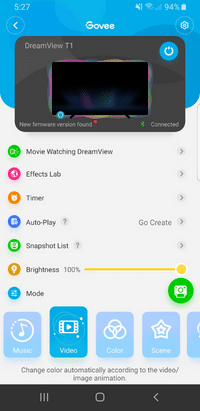 Here's the lowdown on some of the most popular settings and how you can use 'em to make your dreams come true (figuratively speaking, unless you have some weird dream about setting options).
Music Sync
You can sync the lights to your tunes and get your groove on. Choose from some sick pre-set modes, or let your creativity run wild and make your own. Perfect for parties, dancing, or adding extra fun to any situation. Get ready to light up the room and dance like no one's watching!
Color Palette
With many colors to choose from, you can go classic with white or brighten things up with bold hues. Red and orange will make your space warm and cozy, like a big hug. Or, if you're feeling zen, switch to blue or green for a calm and chill vibe.
Effects Lab
The Govee Dreamview also offers a variety of effects, such as flash, strobe, and fade. These effects can add visual interest and excitement to any room.
Timers And Schedules
The Govee Dreamview timers can also be set on a schedule, so the lights will turn on and off at certain times. This setting is perfect for creating a sense of security when you're away from home or simulating presence when you're on vacation.
Brightness
The Govee Dreamview allows you to adjust the brightness to your desired level. This setting is perfect for creating a soft and subtle ambiance or brightening a room for work or play.
Autoplay
You can choose from various pre-set light patterns and effects and sit back and relax while they do all the work for you. Perfect for those nights when you're trying to impress your friends or throwin' a shindig.
And get this, you can even schedule the autoplay feature, so the lights switch up based on the time of day or week. No more fiddlin' with the lights. Just chill and enjoy the show! With autoplay, you're guaranteed a dope ambiance without lifting a finger.
Saturation
Saturation is all about how intense a color is. Ya, feel me? The Govee Dreamview gives you all the control over that intensity, so you can get your desired vibes in your room.
Think about it – if you want a bold, eye-catching red, crank the saturation too high. But if you're feeling more chill and want a calmer red, turn it down a bit. It's like a mood ring for your room! You can have all the fun playing with different saturation levels to get the perfect hue for your space. So get creative, and make your room match your vibe!
White Balance
Do you know what's cool about the Govee Dreamview? It's got a killer feature called "white balance"! It lets you adjust the color temp of the white light, so it fits the vibe you're going for in your room.
Want a warm and cozy feel? Dial it down to 2700K. Feeling more zen? Crank it up to 6000K for a relaxed and refreshing atmosphere. It's great for different activities, like reading, working, or winding down before bed.
And the best part? You can easily play around with different settings through the Govee app to find your perfect match. So, get ready to change the game in your living space with the Govee Immersion.
Conclusion
With the Govee Dreamview, you can give your TV-watching sesh a seriously rad upgrade. No more eye strain, hello visual heaven! And the best part? You can totally customize it to fit your style. Think of it as your own movie theater in the comfort of your crib.
So, get ready to have some fun and play around with all the different settings and options. Trust me, you won't regret it. The Govee Dreamview is about to make your TV time much more lit!
$55.43
$89.99
as of November 28, 2023 10:10 am