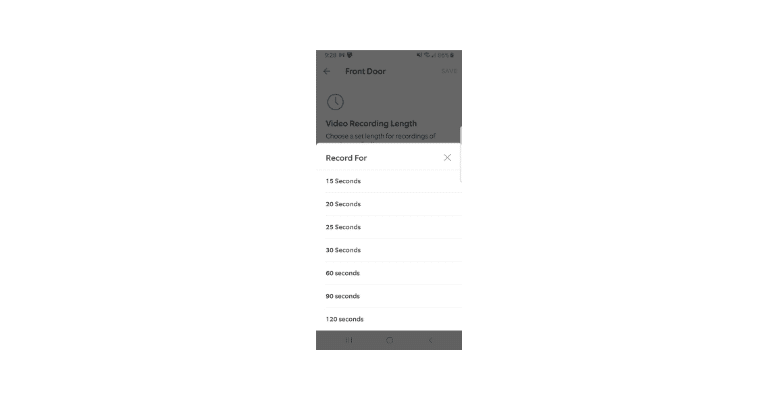 The Ring Doorbell 2 is a wireless, battery-powered doorbell that connects to your home's Wi-Fi network. It is designed to replace your traditional doorbell and provides a range of advanced features to help you monitor and secure your home.
The ability to record video footage is one of the most popular and valuable features. It allows you to keep an eye on your property even when you're away and review the footage later to see who came by or if something happened outside your door.
Video Quality And Resolution
The Ring Doorbell 2 is the real deal. It's got a 1080p HD camera that'll give you crystal clear footage, so you can see every little detail – from the wrinkles on granny's face to the graphic tee your package guy is rocking.
And the best part? You can live stream all that fantastic footage on your phone, so you'll never miss a beat. Even in the dead of night, this baby's got night vision to capture all the goods. Plus, with motion detection, you'll be the first to know when the pizza delivery guy arrives.
In short, if you want to keep an eye on your crib, the Ring Doorbell 2 is your new best bud.
Cloud-Based Storage
Are you tired of worrying about losing all your doorbell footage because of a lost USB drive or damaged microSD card? Well, have no fear. The Ring Doorbell 2 has got you covered with its cloud-based storage! All your footage is safely stored on Ring's servers. It can be accessed from anywhere with an internet connection through the Ring app or website. And, the best part? You can access it from multiple devices, share it with friends and family, and even download it to keep on your own device.
And here's the kicker – even if your doorbell gets stolen or damaged, you can still access your footage from another location thanks to Ring's cloud storage. Plus, with their continuous monitoring, you won't have to worry about losing any footage even if the device is tampered with. Talk about peace of mind!
And if you're worried about running out of storage space, fear not! Depending on your subscription plan, you can have unlimited storage and access to other cool features like person detection (because let's be honest, we only care about seeing the actual people at our door, not just any old squirrel). So, what are you waiting for? Upgrade to cloud storage with Ring Doorbell 2 today!
Recording Triggers
How does the Ring Doorbell 2 keep you in the loop with what's happening at your doorstep? Well, it's got a couple of tricks up its sleeve! You can set it up to start recording using a few different triggers, like motion detection or even manual triggering. This way, you're only capturing the footage you need, saving battery life and reducing the number of videos you have to sift through.
Motion detection is a fantastic feature – it uses smart technology to detect movement in front of your doorbell. As soon as it senses something moving, it starts recording and sends you an alert on your phone or tablet. You can even fine-tune the motion detection settings in the Ring app by adjusting the sensitivity, setting up specific areas you want to keep an eye on, and scheduling when you want it to be active.
But if you want to take control, the manual triggering option is for you! You can start and stop recording at any time using the Ring app or the button on the doorbell. Perfect for checking in on a package delivery or just seeing what's going on outside your front door. So, whether you want to be hands-off or hands-on, the Ring Doorbell 2 has got you covered!
Recording Time
By default, the Ring Doorbell 2 records footage in 20-second clips when motion is detected. This means the device will record for 20 seconds when motion is detected and then stop recording. The device will start recording another 20-second clip if motion is detected again. This allows the device to conserve battery power and storage space while capturing important footage.
However, the recording time can be customized in the settings of the Ring app from between 15 seconds to 120 seconds. You can change the length of the recording clips and set the schedule for when the device should be recorded; this means that the recording time can be extended if you want longer footage available.
To set the recording time:
Select the doorbell on that you want to change the recording time on.
Scroll down to "Video Recording Length."
If you're in the market for a doorbell that's more than just a doorbell, then you gotta check out the Ring Doorbell 2. It's a game changer, my friend. The Ring app lets you see everything at your place, even when you're not there. And the best part? It's super easy to use! Whether an Apple or Android person, you can download the app and access all the footage you've got. Plus, you can share it with anyone, anytime!
You can check the footage on your computer if you're not feeling the app. The Ring website is accessible from anywhere, so you can catch up on what's been happening at your place, even when you're at the office. You can pause, rewind, and adjust the volume and brightness, making it super easy to see what's going on.
Sharing is caring. With the Ring Doorbell 2, you can share the footage with anyone, even if they don't have the app. Just choose the clip you want to share, hit the share button, and bam! You can share it with your friends, family, neighbors, or even the authorities if you need to.
And if you're feeling extra friendly, you can invite your family or close neighbors to be shared users. That way, they can keep an eye on your place when you're not around. It's like having your own personal neighborhood watch!
Overall, the Ring Doorbell 2 makes it easy to keep your place secure and always know what's happening. Whether you're checking the footage while you're away or sharing it with others, it's got you covered. And it's way more fun than just a regular doorbell.
Troubleshooting
Only Records For 2 Seconds
If your Ring Doorbell 2 only records for 2 seconds, there may be a few different causes for this issue. Here are some troubleshooting steps you can try to fix the problem:
Check your motion detection settings: The first thing you should check is the motion detection settings in the Ring app. Ensure that the motion detection sensitivity is set to a level appropriate for your environment. If you have pets, set the sensitivity lower to avoid triggering false alarms. You can also adjust the motion zones to ensure that the device only records the areas you want it to.
Check your power source: Ensure it is adequately powered. If the device is battery-powered, check the battery level and replace it if necessary. If the device is wired, ensure that the wiring is connected correctly and that there are no loose connections.
Check for network connectivity issues: Ensure it is correctly connected to your home's Wi-Fi network. If the device is not connected to the internet, it will not be able to record footage or send notifications. Try resetting your router or moving the doorbell closer to the router if you are experiencing connectivity issues.
Check for updates: Make sure your Ring app and doorbell are up-to-date. Sometimes updates may fix bugs or other issues affecting the device's performance.
If you have tried all these steps and the issue persist, you should contact Ring's support team for further assistance. They will help you troubleshoot the problem and provide additional solutions if necessary.
Conclusion
So you're looking for a way to keep your crib safe and secure, huh? The Ring Doorbell 2 is the ultimate solution to your home security woes. With its dope recording features and cloud storage, you'll never miss a beat – even when you're away from home. Plus, with subscription plans and super easy access to all your footage, it's the perfect way to have peace of mind and keep your house locked. Trust me, you won't regret getting one of these bad boys!